Treffen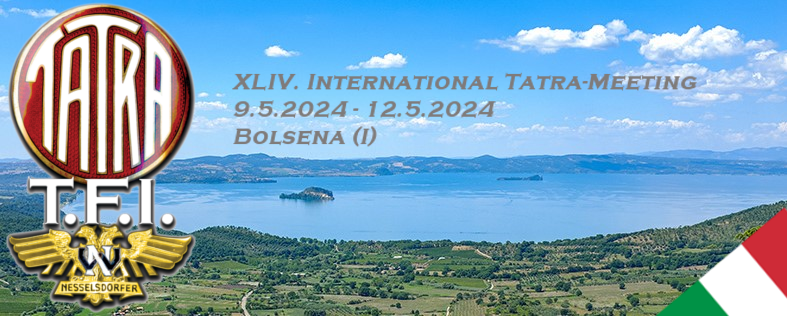 Hier ist die Einladung unserer italienischen Tatra-Freunde Pierpaolo Cincinelli und Simona Patrascu in Deutsch.
Ecco l'invito in italiano dei nostri amici italiani Tatra Pierpaolo Cincinelli e Simona Patrascu
Zde je pozvánka od našich italských tatrováků Pierpaola Cincinelliho a Simony Patrascu v češtině.
Here is the invitation in English from our Italian Tatra friends Pierpaolo Cincinelli and Simona Patrascu.
Voici l'invitation en français de nos amis italiens des Tatras Pierpaolo Cincinelli et Simona Patrascu.


For the first time in their history, the Tatra Friends accepted the invitation of a hostess. This even triggered a change of mood in the weather gods - after 40 rainy days, the 43rd International Tatra Meeting took place in the Styrian Enns valley in dry weather, even with sunshine.
Tatrováci poprvé ve své historii přijali pozvání hostesky. To spustilo i změnu nálady bohů počasí - po 40 deštivých dnech se ve štýrském údolí Enns za suchého počasí i se sluníčkem konal 43. mezinárodní tatranský sraz.